Vision To Learn launched in Dubuque, Iowa in January 2016, in partnership with the Community Foundation of Greater Dubuque in an effort to increase access to vision care for students attending school in Dubuque and Jackson County. The pilot project was part of an area Campaign for Grade-Level Reading strategy that focuses on reducing barriers impacting academic success.
In Spring 2017, Vision To Learn partnered with the United Way of Central Iowa and Prevent Blindness Iowa to launch a pilot serving 5 Elementary Schools within the Des Moines Public Schools (DMPS). After the success of the initial pilot, these organizations worked together to develop a strategy that included a plan to serve all eligible K-8th grade students attending DMPS. Vision To Learn has since expanded in the Greater Des Moines area to serve the West Des Moines Community School District, Boys & Girls Club of Central Iowa, Holy Family Catholic School in Des Moines, Youth & Shelter Services (YSS), and other various summer learning sites.
Vision To Learn has continued to grow throughout the state of Iowa with additional launch sites in Allamakee, Anamosa, Fort Dodge, Monticello, Olin, Postville, Waterloo, West Liberty, Wyoming, and across numerous out-of-school program sites during the summer months.
In 2020, Vision To Learn – Iowa passed a milestone of providing more than 8,000 students with an eye exam. Despite challenges due to the pandemic, the program has been able to continue working with schools and organizations to serve students in Des Moines, Dubuque, Olin, Midland, Monticello, Postville, Waterloo, West Des Moines, and West Liberty School Districts.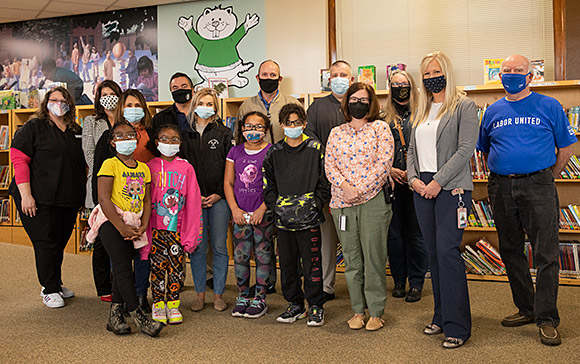 Supporters Include:
Allamakee Community Foundation
Black Hawk County Gaming Association
Cedar Valley Medical Specialists
Cedar Valley Readers
Community Foundation of Greater Dubuque
Community Foundation of Jackson County
Community Foundation of Greater Muscatine
Cushing Family Charitable Fund
Delta Dental Iowa Foundation
Dubuque Morning Optimists
Dubuque Noon Optimists
Dubuque Racing Association
Jackson County Community Foundation
Jones County Community Foundation
Steve and Elaine Kahler
Klauer Optical Co.
Max & Helen Guernsey Foundation
McDonough Charitable Foundation
McElroy Trust
Merchants Bonding Company
Midwest One Bank
Operation Threshold
Prevent Blindness Iowa
Trey Sucher Law
Theisen's Home Farm Auto
United Way and Community Foundation of Greater Fort Dodge
United Way of Central Iowa
Unity Point Health – Waterloo
Variety – the Children's Charity
Wolfe Foundation
100 Women Who Care
Contact
Vision To Learn, Iowa
Corrine Kroger, Regional Director
+1 (563) 495-8691
Questions or concerns: iowa@visiontolearn.org