Los Angeles Unified
Los Angeles Unified is the birthplace of Vision To Learn. On March 27, 2012, Vision To Learn made its inaugural visit to Napa Street Elementary, in Northridge, with funding from the Beutner Family Foundation. Since then L.A. Unified has consistently been the district most visited by Vision To Learn's mobile clinics, with over 3,900 individual visits to over 800 campuses.
This effort in Los Angeles has been sustained by many generous sponsors, including the L.A. Clippers Foundation, LA Unified School District, The Eli and Edythe Broad Foundation, Los Angeles Dodgers Foundation, Deerbrook Charitable Trust, The California Endowment, the Ahmanson Foundation, Annenberg Foundation, Ralph M. Parsons Foundation, S. Mark Taper Foundation, Rotary District 5280, The Robin-Hwajin Yoon Kim Foundation, and Weingart Foundation.
Vision To Learn's program in L.A. Unified was the subject of the first academic study of the impact of the organization. In 2014, researchers at the University of California Los Angeles' Mattel Children's Hospital interviewed parents, teachers and principals for a qualitative study of the program. A quantitative study followed, comparing the grade point averages of students before and after receiving glasses from Vision To Learn. Together, these studies showed that Vision To Learn's program provides access to quality vision care for thousands of students who would not otherwise have an opportunity to receive an eye exam and glasses. On average, students' grades in math and reading improved after receiving glasses — as much as 8% for boys' math grades. Glasses yielded collateral benefits as well, in that students' behavior and ability to focus in class also improved after receiving glasses — so entire classrooms were positively impacted.
In Fall 2017, Los Angeles Unified School District and the L.A. Clippers Foundation committed to fund Vision To Learn providing every LAUSD who needs them with free eye exams and glasses. To date, Vision To Learn has provided over 55,000 LA Unified students with eye exams and 44,000 with prescription glasses through this project.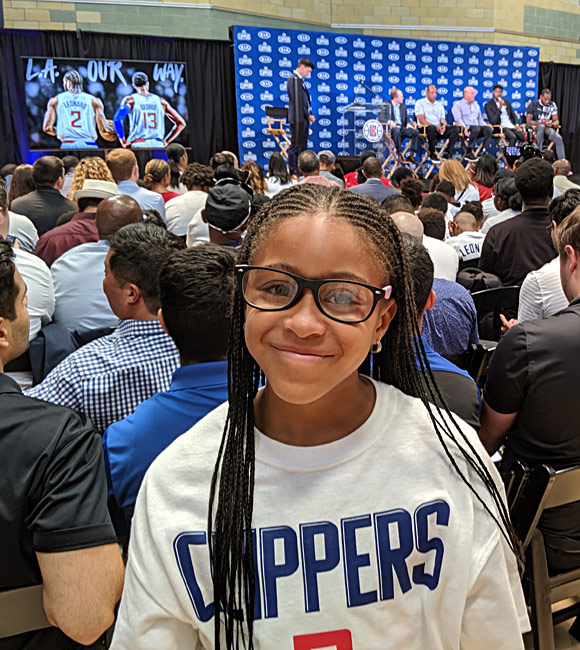 Long Beach
Many supporters have stepped up to bring Vision To Learn's services to Long Beach Unified — the second largest school district in Los Angeles County, and third largest in the state of California. Vision To Learn first visited Edison Elementary on September 16, 2014, with the support of Mayor Robert Garcia and funders including UniHealth and California Resources Corporation. Superintendent Chris Steinhauser and the Long Beach Unified school health services staff worked to boost the number of schools Vision To Learn served.
In 2017, the L.A. Clippers Foundation announced a grant allowing Vision To Learn to provide free eye exams and glasses to every student in need — kindergarten through 12th grade – in Long Beach Unified — a district of nearly 80,000 students. This generous contribution, and Vision To Learn's strong partnership with Long Beach leadership, will make an enormous difference for the approximately 7,000 students in need.
Read about the collaboration with the Clippers, and helping kids in Long Beach »
On the significance of this work, Mayor Garcia penned an op-ed, "Another View", which can be read here »

Inglewood
In Spring 2016, Vision To Learn received funding from the L.A. Clippers Foundation for an ambitious project: providing an eye exam and glasses to every student in need, preschool through 12th grade, in the City of Inglewood. Vision To Learn completed the project in just one school semester, with its clinics visiting Inglewood schools 82 times, and providing 1,670 students with eye exams and 1,430 with glasses. In true communal fashion, members from the Rotary Club of Inglewood volunteered to provide vision pre-screenings. The project was celebrated with an event at Inglewood High School, attended by Clippers players and L.A. Clippers President Gillian Zucker.
The success of the Inglewood effort led the L.A. Clippers Foundation to support even larger city-wide projects, funding a Long Beach-wide effort in Spring 2017 and a Los Angeles Unified School District effort beginning in Fall 2017.

Compton
Vision To Learn first helped students in Compton Unified on December 17, 2014, at William Jefferson Clinton K-8 School. In Spring 2018, the Los Angeles Dodgers Foundation supported a district-wide program, through which Vision To Learn visited all 34 campuses, providing over 20,000 students with vision screenings, over 5,000 with eye exams, and over 4,300 with glasses.
Learn more about the Los Angeles Dodgers Foundation-sponsored project in Compton Unified.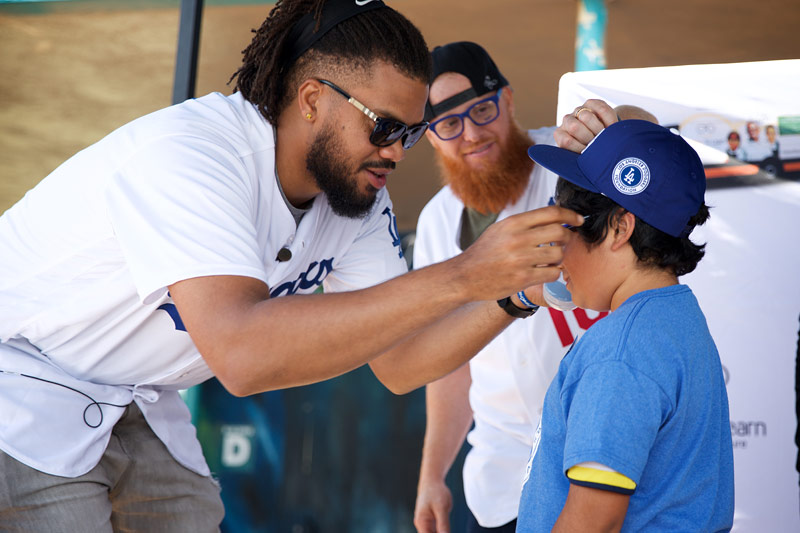 Los Angeles County
In addition to the two largest districts in Los Angeles County — Los Angeles Unified and Long Beach Unified — Vision To Learn serves districts from Compton Unified in South L.A., to Alhambra Unified in the San Gabriel Valley; from Montebello Unified in East L.A., to Redondo Beach Unified by the Pacific. Vision To Learn has steadily added additional clinics to its Los Angeles County operation to expand capacity and reach. Starting with one vehicle in 2012, the organization now has nine operating daily in schools and community organizations.
On the local level, Vision To Learn's effort in L.A. County has been greatly assisted by volunteers and funding from clubs in Rotary District 5280. Rotary members have volunteered to help school districts provide vision screenings that refer students to Vision To Learn, and have raised funds to support their local schools. This support has allowed Vision To Learn to help thousands of additional children in Los Angeles County.

Mireya Tells Her Story

San Diego
Vision To Learn launched in San Diego in Fall 2019, in California's second largest school district: San Diego Unified. This project will provide full-time service to students in low-income communities of San Diego County, where an estimated 43,000 students lack the glasses they need. The program received start-up funding for a new mobile clinic and first year program costs from Price Philanthropies.
The San Diego Padres have partnered with Vision To Learn locally, and sent the Swingin' Friar, the "Pad Squad," Padres broadcaster Jesse Agler, and former Padres All-Star Randy Jones to help kids try on their new glasses at an Oak Park Elementary kick-off event.
Additional support for the program is provided by in-kind lenses sponsor OneSight EssilorLuxottica Foundation, the Deerbrook Charitable Trust, and the Eli and Edythe Broad Foundation.
Riverside
Vision to Learn launched in the Inland Empire in the Fall of 2021, in Riverside Unified School District. Vision to Learn had the opportunity to partner with 14 school districts in Riverside County. Through these partnerships, Vision To Learn provided over 25,217 students in Riverside County with vision screenings. Out of the 25,217 screened, over 7,400 of those students needed eye exams. By the end of our first year of serving Riverside County, Vision to learn had provided over 6,000 students with prescription glasses. 
In addition to Riverside County school districts, Vision to Learn has also partnered with San Bernardino County school district: Rialto Unified in 2022.
Additional support for the program is provided by local Rotary clubs, Desert Healthcare District, Agua Caliente Band of Indians, and the RAP Foundation.
Southern California Supporters
The Ahmanson Foundation
Angelson Family Foundation
Annenberg Foundation
Anthony & Jeanne Pritzker Family Foundation
Beutner Family Foundation
BYD Auto
California Community Foundation
California Endowment
California State Society for Opticians
California Resources Corporation
Carrie Estelle Doheny Foundation
Centene
City National Bank
Deerbrook Charitable Trust
The Eisner Foundation
The Eli and Edythe Broad Foundation
OneSight EssilorLuxottica Foundation
Funded in part by First 5 LA
Good Hope Medical Foundation
Herbalife
The Herb Alpert Foundation
IBEW Local 18
Joseph Drown Foundation
The Karl Kirchgessner Foundation
LA Cares
LASPA – Los Angeles Sheriff's Professional Association
L.A. Clippers Foundation
Los Angeles Dodgers Foundation
Frank McHugh-O'Donovan Foundation
Christina and Timothy Noonan
The Ralph M. Parsons Foundation
Penske Motor Group/Patty and Greg Penske
Price Philanthropies
The Robin-Hwajin Yoon Kim Foundation
The Riordan Foundation
Ronald McDonald House Charities of Southern California
Rose Hills Foundation
Rotary District 5280
Roy and Patricia Disney Family Foundation
S. Mark Taper Foundation
Saint John's Health Center Foundation Community Impact Fund
Sony Pictures Entertainment
Southern California Gas Company
Steinmetz Family Foundation
UniHealth Foundation
United Airlines (Official Airline of Vision To Learn)
United Firefighters of Los Angeles City
Vernon CommUNITY Foundation
Watts-Jen Family Charitable Fund
Weingart Foundation
William H. Hannon Foundation
Winebaum Family Charitable Trust
W. M. Keck Foundation
Contact
Vision To Learn, California
Uzi Granados
+1 (800) 485-9196
Questions or concerns:   mail@visiontolearn.org