In 2013, the Mattel Children's Hospital at UCLA commenced an analysis of the Vision To Learn model to determine its effectiveness. The results were overwhelmingly positive.
The UCLA team was led by Dr. Wendy Slusser and Dr. Rebecca Dudovitz. Their initial report found that providing glasses to children in need improved the quality of a student's education, while also providing collateral benefits such as improving the quality of a child's life.
Teachers reported to UCLA that glasses helped students become more engaged in the classroom. When kids were better able to see a classroom board and read the words in a book they were not only more confident about participating in class, but the class as a whole experience fewer disruptions.
One teacher explained, "I've had about six kids that received glasses and these are the kids [who] … were distracting other kids… But when they got the glasses that kind of just changed. It went away."
UCLA also discovered that providing glasses in a group setting reduced the stigma associated with getting glasses. Along with allowing kids to pick their own frames, the group dynamic helped to encourage them to wear their glasses at school and at home.
Parents interviewed for the study revealed that their kids' getting glasses improved life at home. Many explained they could now understand their children's previous academic struggles, and why their kids had been anxious about school. When parents discovered their children were participating more in class and were better able to focus, the parents worried less about how their kids were doing in school.
Of those surveyed, 92% of teachers and 90% of parents felt their students would not have received glasses without the access provided by Vision To Learn.
One year later, UCLA returned to the schools to gather statistical data for their quantitative analysis. The study reviewed students' grades for two years prior to receiving glasses and for one year after. The results were positive, and indeed further underscore the value of Vision To Learn's model.
UCLA determined that providing glasses to children improved both their Reading GPAs and their Math GPAs: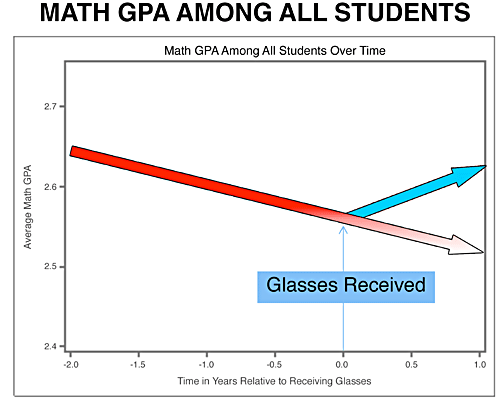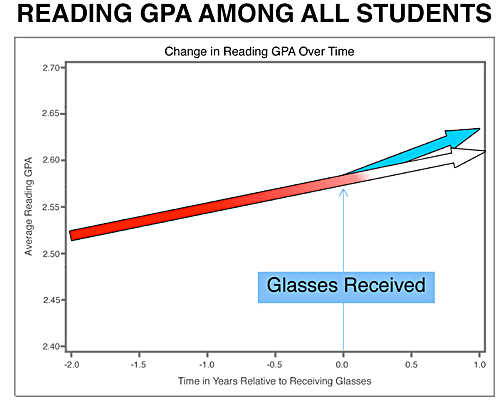 As background research, UCLA doctors found that 80% of classroom learning is visual. In addition, over 20% of students have a vision problem that can be identified by screening and over 80-90% of those defects can be corrected with glasses. Low-income and minority students are disproportionally affected by untreated visual impairments; and, for a host of reasons, experience more obstructions to care and generally have less access to corrective lenses.
Dr. Dudovitz ended: "In summary we found that Vision To Learn removes the multiple barriers to treat children with impaired vision from the point of screening all the way through to the child's willingness to wear their glasses in school."
The UCLA study supported the foundation of Vision To Learn's mission: that providing children with the glasses they need improved the quality of their education, and the quality of their lives. When we help children in low-income communities see the words on a page and the lessons on a board, the benefits extend far being the reach of the classroom.
Researchers:
Dr. Wendy Slusser is Associate Clinical Professor of Pediatrics at UCLA, Co-Founder and Medical Director of the UCLA Fit for Healthy Weight program, and directs the Venice Family Clinic Pediatric Health and Wellness program. She graduated Cum Laude from Princeton University, received her Medical and Masters Degree in Nutrition from the College of Physicians and Surgeons at Columbia University. She completed her internship and residency in Pediatrics at Babies Hospital, Columbia Presbyterian Hospital in New York City. Dr. Slusser joined the UCLA faculty in 1996 and since then has been a leader in community, school, clinic, and family based programs related to health promotion, infant and child nutrition and physical fitness. Dr. Slusser is Board Certified in Pediatrics, a Fellow of the American Academy of Pediatrics, and practices and teaches General Pediatrics and health promotion at the Venice Family Clinic, the largest free clinic in the US.

Dr. Rebecca Dudovitz received her undergraduate degree from the University of California, at Davis with a major in philosophy. Afterwards, she attended UCLA medical school where she earned her MD. She completed her pediatrics residency at UCLA in the Community Health and Advocacy Training (CHAT) Program and stayed on as chief resident before entering the Clinical Scholars Program. Her research interests include investigating the relationship between academic achievement and health outcomes and adolescent substance use prevention.