MOUs:
Vision To Learn (VTL) partners with school districts through a Memorandum of Understanding (MOU) that outlines the responsibilities of Vision To Learn and the district. Vision To Learn's program model makes it easy for students to access eye care, and easy for schools to bring Vision To Learn to campus. Typical district responsibilities include coordinating consent forms for exams and escorting kids from the classroom to the mobile clinic. The program begins with vision screenings for all students, utilizing medically appropriate tools.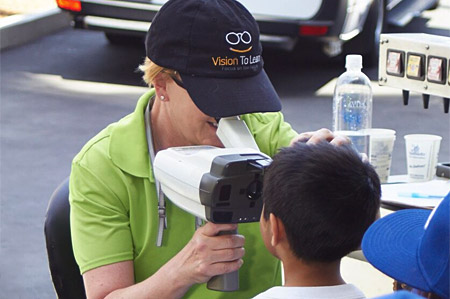 Vision Screenings:
If a district has school nurses or a health department, they may conduct the screening. As needed, Vision To Learn will provide additional tools and staff to supplement screenings, so that every student, K-12, can be properly evaluated.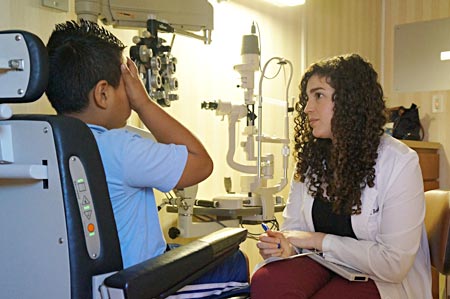 Eye Exams:
Following the full-school vision screenings, Vision To Learn's staff will coordinate with school site staff and district administrative staff to schedule one or more visits from the VTL mobile vision clinic. VTL's clinics are converted sprinter vans, each with a self-contained optometric exam lane. The clinic can park anywhere on campus. Inside the mobile clinic, a licensed optometrist will provide eye exams for all students who failed the initial vision screening.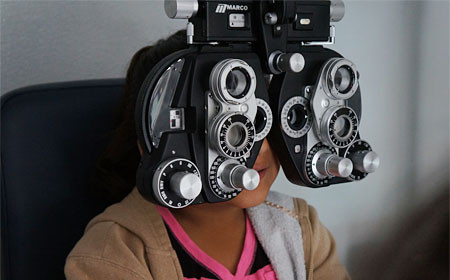 Frames Selection:
Students who are prescribed glasses will then choose their frames, with the guidance of VTL's optician. All students will have a wide selection of fashionable styles and colors to choose from in their size. Students will be escorted to and from class to the clinic in small groups, and will spend, on average, twenty minutes in total out of class. Because the students pick out their own frames, it's a fun experience!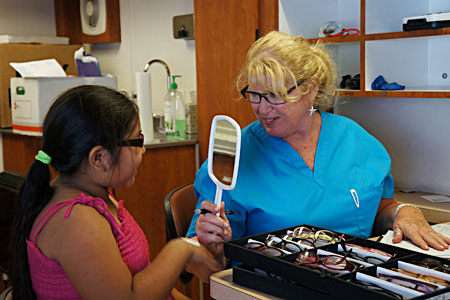 Getting New Glasses:
Approximately two weeks following the exam day, Vision To Learn's optician will return to the school to provide the students their glasses. The optician will fit the glasses to each student individually, and instruct them on caring for and cleaning their lenses. If the students' glasses are lost or broken, Vision To Learn will replace them free of charge within a year.