About Vision To Learn
Vision To Learn is a non-profit organization that provides free eye exams and free glasses to students in low-income communities to give them every chance to succeed in school and in life. The program was founded in Los Angeles in 2012, and has since expanded to schools in over 325 cities throughout areas of California, Delaware, Georgia, Hawaii, Iowa, Maryland, Michigan, Mississippi, New Jersey, North Carolina, Pennsylvania, and Virginia.
Our opticians and optometrists provide eye exams and glasses to students by bringing Vision To Learn mobile eye clinics to schools, community programs, and kids' sports clinics, where we see an average of 25 students per visit. Since our inception, Vision To Learn has made over 10,000 visits to schools and community events, examined over 225,000 students, and provided over 180,000 children with free glasses.
Top candidates will have a proven track record for success, along with a positive, proactive attitude. Dedication to our mission is critical. Vision To Learn is a rapidly growing organization and team players are critical to our collective success.
Make a difference in the lives of children in your community! Competitive salary is based on experience.
For all positions below, please email resume and cover letter to careers@visiontolearn.org.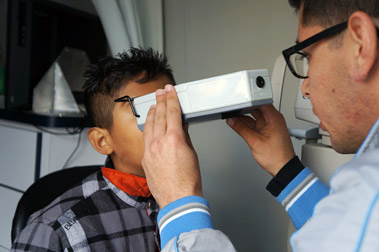 Current Openings in Jackson, MS
Optometrist
Position Description
Vision to Learn is seeking a qualified candidate for an Optometrist licensed to practice in Mississippi, to work part time, or full time, beginning in October. This position would be up to 4 days/
week.
Key Position Responsibilities
Provide primary vision evaluations, which includes checking visual acuity; assessing binocular vision; performing a full refraction and prescribing appropriate correction, and assess ocular health.
Prescribe vision devices, test patient on all applicable equipment to determine the most suitable for his/her condition, and instruct the patient on the proper use of the device.
Confirm the patient's diagnosis is properly documented in the internal systems.
Qualifications
Position requires work to take place in a mobile clinic; candidate must be able to commute to schools throughout Jackson.
Successful record of working with children.
Good organizational and prioritization skills.
Strong interpersonal and written communication skills.
Experienced using EMR systems, and Microsoft Office experience a plus.
Must pass Department of Justice background check (LiveScan) and drug test.
Experience using EMR systems. Microsoft Office experience as plus.