Wearing eyeglasses can be a big adjustment for children.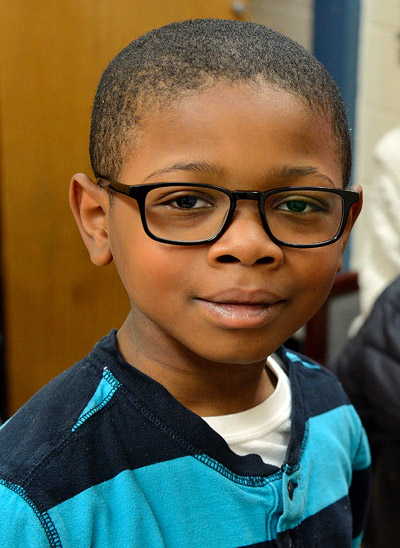 Praise them for wearing their glasses. Help them identify with others who wear glasses, particularly someone they idolize such as an athlete or community leader. Remind your child that wearing glasses will make it easier to learn and succeed at school.
Establish a safe spot for your child to keep the glasses and case when they are not being worn.
Make sure the glasses are clean, so they don't strain your child's eyes.
Make putting glasses on in the morning and taking them off at night a part of their everyday routine.
Help your child remember to wear the glasses as often as prescribed.
If your child is getting glasses for the first time—or if your child wears glasses but is getting a significant change to the prescriptive strength—it may take some time for your child to adapt to this difference.
Your child may experience headaches or dizziness when they first try their new glasses. If this is the case, have them start by wearing the glasses only a few hours a day—when they are seated. Each day, you can increase the time they are worn. After two weeks, they should be comfortable wearing the glasses as prescribed.
If your child is not wearing the glasses regularly after several days, try to determine why. Are the glasses not comfortable or do they hurt your child's eyes? The frame or prescription may need to be adjusted. If your child has not adjusted to the glasses after two weeks, please contact an eye care professional.
Remember that eyes can change! Even if kids have glasses, prescriptions change because their eyes are growing all the time. Your child's eyes should be re-examined each year.
Glasses Care
Proper care of children's new glasses will help them last longer.
Use dish soap and warm water to clean glasses, if you don't have a cleaner designed for lenses.
Never use paper towels, bath towels or other rough materials to dry lenses. A microfiber cloth is best, but a soft t-shirt will work as a substitute.
Don't store eyeglasses in extreme temperatures.
When children are not wearing their glasses, always store them in the case provided. The case will protect glasses in the event they are dropped and also keep the frame from getting bent.
A strap comes in handy so kids' glasses don't fly off during sports of other activities. Contact Vision To Learn for more information if you are having difficulty finding a strap for your child's glasses.
Lost or Broken Glasses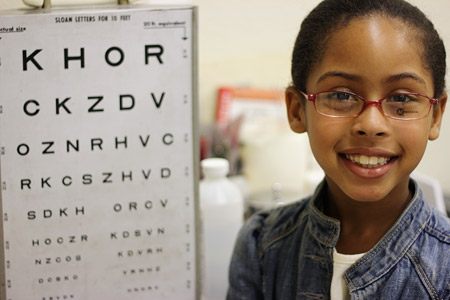 Glasses received from Vision To Learn are eligible for a one-time replacement within a year of their being received. If your child's glasses break within one year of the dispensing date, they can be replaced or repaired at no charge.
Broken glasses:
Mail your broken glasses to:
Vision To Learn
P.O. Box 491392
Los Angeles, CA 90049
Please include the following information:
Child's name and current mailing address
School/Organization/Event Name (where child received the glasses)
Date the glasses were received
Description of problem with glasses
Parent's contact name and phone number
For questions on broken glasses, email glasses@visiontolearn.org, or call (800) 485-9196.
Lost/misplaced glasses:
A parent or guardian should contact Vision To Learn by phone at (800) 485-9196; or by email from the list below, depending on your location.
Southern California/Los Angeles County, glasses@visiontolearn.org
Northern California, norcal@visiontolearn.org
Delaware, delaware@visiontolearn.org
Georgia, georgia@visiontolearn.org
Hawaii, hawaii@visiontolearn.org
Iowa, iowa@visiontolearn.org
Maryland, maryland@visiontolearn.org
Michigan, michigan@visiontolearn.org
Mississippi, mississippi@visiontolearn.org
New Jersey, newjersey@visiontolearn.org
Virginia, virginia@visiontolearn.org