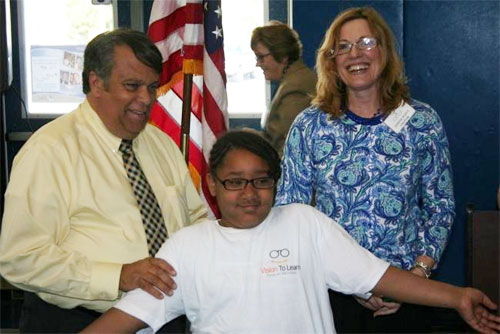 By David Paulk, Dover Post
It's a whole new world for 10-year-old Dahmir Demby.
Demby had been living with less than perfect eyesight, but on April 16 that all changed.
Vision to Learn provides free eye exams and glasses to neighborhood youth in high-needs schools. It came to Towne Point Elementary School with free glasses for about 20 students.
The Los Angeles-based group came as part of its campaign to serve all the school districts in Delaware. It first visited New Castle County where it handed out 500 pairs of glasses. Capital School District is the first district in Kent County.
"It's fun," said Demby. "I can see better."
Demby said class was tough before he received glasses; the board was blurry and it made it hard for him to get his work done.
Ozie Jones' granddaughter, Samira Cooper, 8, was one of the students that received a new pair of glasses. Cooper was excited.
"This program helped me tremendously," Jones said. "The way she watches TV and the trouble she was having with her school work you could tell she needed glasses. I think her school work is going to improve and I think her self-esteem will improve."
Tara Quinn, Delaware Vision to Learn regional director, said providing glasses to students like Demby is the goal of the organization. They target kids from kindergarten to fourth grade.
"We're putting glasses on kids who have been identified, some of them for years, as needing glasses and didn't have them for one reason or another," Quinn said. "By the time they reach third grade, if they haven't received glasses we see a drop in their grades."
The road to getting students glasses starts with an eye exam that Vision to Learn conducts after cooperating with school nurses. Nurses such as Tracy Emerson at Towne Point determine which students will need exams, and get approval from parents. After Vision to Learn conducts exams in their mobile unit they typically return two weeks later with the glasses.
Towne Point Elementary School was only the start. South Dover, Booker T. Washington, Fairview, North Dover, and Hartly elementary schools were on the itinerary.
Towne Point Principal Charles Sheppard reinforced the idea that having glasses will help the students with their class work.
"Our kids have some many obstacles when they come into our buildings," he said. "Now they can be engaged with what they're learning, what's on the board and what they're being asked to do."
Amanda Cox, an optician with Vision to Learn, said many students go without glasses because the students don't realize they need them until someone conducts a thorough exam.
"Some of them don't even know they can't see," Cox said. "They tell us they see fine, they tell mom and dad they see fine, but then they get on the van and really can't. If you had them sit five feet away from a sign they wouldn't be able to read it to you."
Dover Mayor Robin Christiansen, Capital School District Superintendent Michael Thomas, and Towne Point Elementary Principal Charles Sheppard shared a few of their own experiences with glasses.
Thomas said when his son was little he had trouble seeing the ball whenever they would play catch. He said this was when he realized his son might need glasses.
"He would never see the ball until it was right on him," Thomas said. "But he became a baller once he could see the ball coming."
Dover Mayor Robin Christiansen told the audience that wearing glasses would lead to big things; he had trouble focusing when he was younger, but everything changed when he got glasses.
"I got a good education and good grades on my report card," he said. "Wear glasses, and you, too, could be mayor."