Virginia Governor Terry McAuliffe and Richmond Mayor Levar Stoney participated in the launch of an initiative to provide thousands of Richmond public school students with free vision care, through a collaboration between nonprofits Vision To Learn and Conexus. The effort, which began October 26th at Elizabeth D. Redd Elementary School, will provide free vision screenings to over 20,000 students, and eye exams and glasses to over 7,000 students in Richmond.
Over 7,000 kids in Richmond go to school every day without the glasses they need to see the board, read a book or participate in the classroom. In order to address this issue, Conexus will provide vision screenings to every child in Richmond Public Schools, and Vision To Learn will provide each child who did not pass the initial screening with an eye exam, and if needed then, glasses.
"We're delighted to provide kids in Richmond the glasses they need to succeed in school and in life," said Vision To Learn Founder and Chairman, Austin Beutner. "Vision To Learn serves kids in more than 200 cities from Baltimore to Hawaii. We look forward to working with Governor McAuliffe, Mayor Stoney, Richmond Public Schools, and Conexus to help kids in Richmond."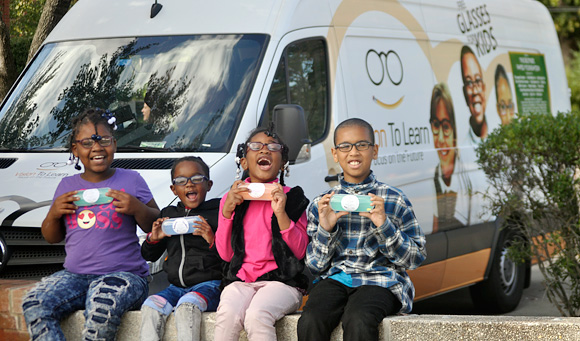 "As a longtime provider of vision screenings to students in Richmond, Conexus knows that thousands of RPS students need an eye exam and glasses. This partnership will help those students get the help they need," said Conexus Chairman of the Board Mrs. Roxane Gilmore.
The initiative is supported with funding from Chan Zuckerberg Initiative, the Eli and Edythe Broad Foundation, Robins Foundation, and Richmond Community Foundation.
"Launching this program in Richmond is the first step toward ensuring that our students have all of the tools they need to succeed in the classroom," said Governor McAuliffe, who signed legislation this year codifying routine and high quality eye exams in public schools in Virginia. "Across the Commonwealth, an estimated 100,000 students lack eyeglasses. That's why the work of organizations like Conexus and Vision to Learn is so critical. Through efforts like these, we can help thousands more students obtain the skills needed to thrive in the new Virginia economy."
"If you can't see, you can't read. And if you can't read, you can't succeed," said Mayor Stoney. "Richmond is grateful for this partnership and proud to be the first Virginia community in which every child, K-12, will be provided the glasses they need to achieve inside and outside of the classroom."
Students with untreated vision problems often struggle at school, and are less likely to achieve reading proficiency by third grade, putting them at greater risk of dropping out.
"Students who need glasses and don't have them, are at a learning disadvantage," said RPS Interim Superintendent Thomas Kranz. "Eyeglasses distributed today and throughout this program are one of the most important tools in creating a better educational experience for our students."
The centerpiece of Thursday's launch event was students receiving and trying on their glasses for the first time. Elizabeth D. Redd Elementary is the first school to be served by this effort; over the past month, all 389 students were screened and 32% were found to have a potential vision problem. 104 students received eye exams, and 97 were prescribed glasses.
About Conexus

Conexus, a Richmond, VA based nonprofit organization, eliminates poor vision as a barrier to children's success in school and in life. The Conexus VisioCheck comprehensive vision program is quickly becoming known as the gold standard for identifying children with undetected vision problems, particularly in schools and preschools. Detecting vision problems early is the first step in providing life-changing services to children sitting in classrooms unable to see workbooks and white boards clearly. For more information about Conexus, visit: www.ConexusVision.org
###