The Sharks Foundation supports Vision To Learn throughout Santa Clara County
SUNNYVALE, CA — Students at Columbia Middle School were delighted today when San Jose Sharks player Evander Kane helped them try on their brand new glasses. The glasses were provided by non-profit Vision To Learn, which kicked-off its fifth year serving students in Santa Clara County by providing free glasses to 83 students at Columbia.
"Vision To Learn provides kids with the glasses they need to succeed in school, and in life," said Ann Hollister, President of Vision To Learn. "Continuing support from the Sharks Foundation has helped us serve many more kids in Santa Clara County."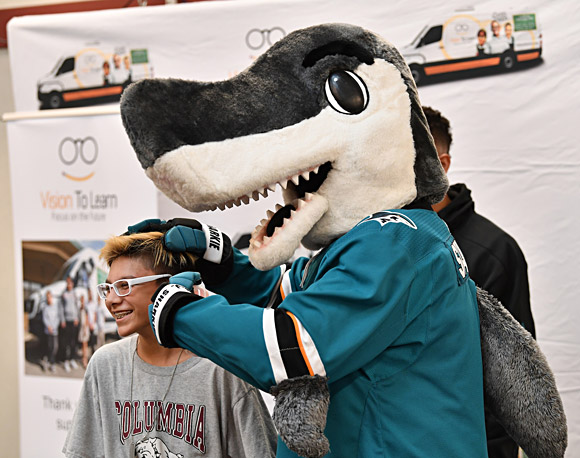 Vision To Learn has served students throughout Santa Clara County since 2014. To date, Vision To Learn has provided almost 4,800 students in the area with eye exams and 4,300 with glasses.
A multi-year, $100,000 sponsorship from the Sharks Foundation has helped fund a mobile clinic dedicated to Santa Clara County. The Sharks clinic will be on display at the Columbia event.
"The Sharks Foundation is proud to continue our support for Vision To Learn in Santa Clara County. This partnership has helped thousands of students improve their performance in the classroom and while participating in extracurricular activities," said Heather Hooper, Director, Sharks Foundation.
In the coming school year, Vision To Learn will provide more than 3,000 students in Santa Clara County with glasses, including more than 400 in Sunnyvale School District.
"Sunnyvale School District and our school nurses are excited to work with Vision To Learn to help students achieve in the classroom and beyond," said Superintendent Dr. Benjamin Picard.
About The Sharks Foundation
Established in 1994, the Sharks Foundation is dedicated to enhancing the lives of youth and families in the community with an emphasis in the areas of education, health and safety, and character development. Since inception, the Sharks Foundation has positively impacted the lives of individuals in the community through its contributions to local non-profit organizations. The Sharks Foundation and the San Jose Sharks are committed to being to a good community partner and continuing to make a positive impact through 2040 and beyond.
To learn more about how the Sharks Foundation is helping underserved youth and families in need in the community, visit the Sharks Foundation's website, view the 2016-17 Community Annual Report
About the Sunnyvale School District
Sunnyvale School District believes that every child can achieve and that it is the school district's responsibility to ensure that they do. Thus, every school in Sunnyvale School District provides a safe environment and rich opportunities for children to thrive academically and emotionally. The district is guided by its comprehensive plan based on its core belief in students, outstanding teachers and administrators, collaborative planning, fiscal responsibility, and dedication to providing personalized and differentiated instruction that meets individual students' needs. The Sunnyvale School District operates a growing preschool program, eight elementary schools and two middle schools in the heart of the Santa Clara Valley. www.sesd.org