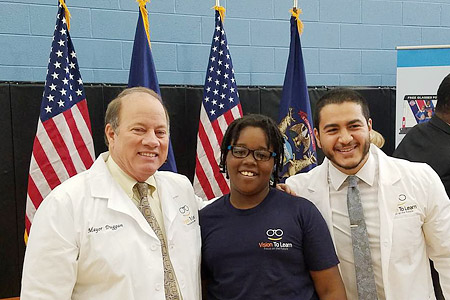 New Health Department Partnership to screen 5,000 students for poor eyesight. 45 Students at Gompers Elementary will receive free eyeglasses during the launch.
Detroit – As many as 5,000 Detroit school children will have a chance to see clearly and achieve success in the classroom, thanks to a partnership with the Detroit Health Department (DHD) and Vision To Learn, (VTL) a national non-profit devoted to providing free exams and eye glasses to children in low-income communities.
The project kicked off today at Samuel Gompers Elementary Middle School in the Brightmoor community, where 45 students put on their new eyeglasses for the first time. There to launch the program were Mayor Mike Duggan, Detroit Health Officer Dr. Abdul El-Sayed, Vision To Learn Founder Austin Beutner and Detroit Public Schools Community District Interim Superintendent, Alycia Meriweather.
"We have so many talented young people in our city, but many of them can't reach their potential because of their vision," said Mayor Duggan. "This new partnership won't just improve these children's eyesight, it will change their lives."
Under the program, the Detroit Health Department and Vision To Learn will partner to make free eye exams available to over 5,000 children. The Health Department will screen for vision problems during the 2016-2017 academic year. Vision To Learn's mobile vision clinic will travel to schools and each child with vision issues will be provided a full eye exam by an optometrist. If the child needs glasses, he or she can choose their very own style and frame, and the glasses will be dispensed to the child at school within two to three weeks, free of charge.
This project is supported through grants, in part, from The Ballmer Group, The Eli and Edythe Broad Foundation, and the Detroit Pistons Foundation. Detroit Pistons players will also promote the program and provide outreach support throughout the school year.
"We want to bridge the gap to follow-up support for Detroit school children with vision challenges," said Dr. Abdul El-Sayed, Executive Director and Health Officer for the Detroit Health Department. "This partnership lays the foundation to help level the academic playing field as our children are just as bright, motivated and eager to learn as any kid anywhere." A cool pair of eye glasses can open up a new world for a child to grow academically and live his or her best life."
According to the Detroit Health Department, disadvantaged children are less likely to see an eye care professional as parents may have barriers to care and access to treat their child's vision issues. In Detroit, 17% of children screened by the Detroit Health Department's Vision program fail the screening and need an eye-exam, but only 2% report follow-up for eye exams. This effort is of great importance for Detroit students with vision problems because they tend to have lower academic performances, which can lead to lower life expectancy, worse health outcomes, and lower employment earnings.
"Vision To Learn serves kids in 138 cities from Honolulu to Baltimore." Austin Beutner, founder of Vision To Learn, said. "We're delighted to be working with the City of Detroit and Detroit Public Schools to provide kids in Detroit with the glasses they need to succeed in school and in life."
The Detroit Health Department and Vision To Learn will work with the teachers, parents, and administrators at Detroit Public Schools Community District as well as partnering charter schools to facilitate the program.
"We truly appreciate our partnership the Detroit Health Department and Vision To Learn," said Alycia Meriweather, Interim Superintendent of Detroit Public Schools Community District. This gift of sight will enable thousands of Detroit Public Schools Community District students to engage fully in the learning process without being distracted by poor vision. We look forward to working with both of these stellar organizations in the future to help our students succeed."