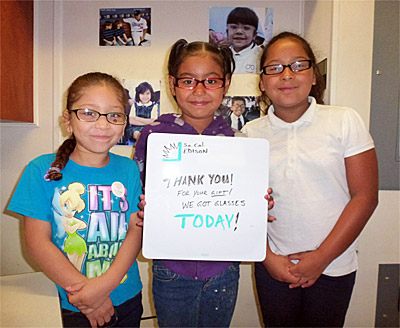 Dear Vision To Learn Supporter,
Even though schools were on break over the summer, Vision To Learn remained hard at work. We started a pilot in a new state, secured a sustainable source of public funding, and spent our summer serving kids. With your support, Vision To Learn has taken some big steps forward. Thank you for helping us make these things possible and for supporting Vision To Learn.
Kind regards,
The Vision To Learn Staff


---
Aloha Hawaii!
In August, Vision To Learn kicked off a Hawaii pilot project on the island of Oahu. Vision To Learn will provide services at over 14 schools in Oahu throughout the next few months. This project brings together Vision To Learn with the Hawaii Department of Education and local nonprofit Project Vision Hawaii, made possible by funding from the First Hawaiian Bank Foundation and the Hawaii Pizza Hut Literacy Fund of the Hawaii Community Foundation.
Vision To Learn celebrated our collaboration in a press event on August 18th, at Kalihi Waena Elementary School. We were joined by Governor David Ige, Hawaii State Teachers Association Immediate Past President Wil Okabe, Superintendent Kathryn Matayoshi, Honolulu Mayor Kirk Caldwell and many other Hawaii leaders who played a role in bringing our services to the Aloha State. Our hope is this pilot will lead to a long-term project in Hawaii, allowing Vision To Learn to bring glasses to thousands of island "keiki."
Summer Plans
---
Vision To Learn did not slow down for the summer
While schools were out, we built partnerships with libraries, summer camps, parks, and special events to serve kids in need.
At the invitation of our partner the Los Angeles Dodgers Foundation, Vision To Learn's mobile clinics visited a series of Dodgers RBI (Reviving Baseball in Inner Cities) events. These weekend little league games are an ideal place for us to bring vision screenings, exams and glasses to kids in need.
Vision To Learn is also working with libraries throughout the state, to link up with kids being served by the Summer Lunch at the Library program. Many children who are provided meals through the Free School Lunch Program will receive those meals at city and county libraries during the summer months. Our clinics visited libraries in Los Angeles, San Jose, Fresno, and more — where we performed exams and then returned to dispense glasses on subsequent dates.


---
Los Angeles Medi-Cal Pilot Program Update
We are excited to report that as of May, Vision To Learn has begun receiving Medi-Cal reimbursements for student vision care in Los Angeles County. The three-year state pilot program, retroactive to January 2015, represents a fundamental element of our strategic plan — securing a public funding stream for our services.
Prior to this pilot, mobile vision providers were not authorized to be reimbursed by Medi-Cal. An optometrist providing the same care in a brick-and-mortar office could be compensated, but we could not. This pilot, requested by Governor Brown in last year's budget, is an opportunity to demonstrate the efficiency and effectiveness of mobile care in delivering glasses to students in need. The funding will cover 65-70% of our service costs, allowing our private donations to stretch further and our program to serve more kids. While uninsured students will not be covered, this public funding is a huge step forward in the sustainability of our model. Vision To Learn will work to document, analyze, and promote the success of this pilot so that we are in a good position to advocate for it to be expanded statewide and extended indefinitely, serving as a model for the nation.
A big thank-you is owed to our board members Mickey Kantor, Dean Vogel and Don Attore for their assistance in getting this pilot program through the budget process.
---
Special Olympics Vision Screenings
Vision To Learn was proud to support athletes competing in this year's Special Olympics World Summer Games. This event, the largest athletic games in Los Angeles since the 1984 Summer Olympics, brought athletes from 165 nations together to compete in 25 Olympic-type sports. The Special Olympics is the world's largest sports organization for people with intellectual disabilities.
To support these dedicated athletes and to help in their quest to achieve their personal best, Vision To Learn conducted free eye exams in the Athlete Village via our mobile clinics during the week of July 27th. Volunteer optometrists and opticians took shifts throughout the week to provide exams to the 6,500 athletes who descended upon Los Angeles from various countries around the globe. Over 30% of the athletes were under the age of 18. More than half were from developing countries and have never had an eye exam. It was our privilege to be a small part of this inspiring event.
This work was made possible by a generous $10,000 grant from Bank of America. The Bank of America Charitable Foundation has been a supporter of the Special Olympics since 2007.